Team-building, seminar, meeting, or even a company party?
Our space adapts to all your professional events, from 1 to 250 guests! We offer high-quality facilities, and a catering service that will delight your guests and partners.
Le Grand Salon YOU OFFERS THE SEMINAR PACKAGE FROM 48 € / PP + VAT. SEMINAR PACK
Conference, seminar, team-building or company celebration coming up? Our venue accommodates all your business functions up to 250 guests! Le Grand Salon offers fully equiped transformable facilities, as well as an in-house catering service "Gardens of Aromates". The chef Ludovic Vanier will oversee every detail to please you and your coworkers' tastesbuds.
Seminar package: We offer you a seminar package starting at 48 €/pp VAT excl.
Price includes :
Welcome coffee, tea, soft drinks and pastries
A meeting room from 8h30 to 18h30 equipped with one high-definition monitor, a flipchart and hight speed internet
Notepads, pens, desk blotters, refreshments & snacks
Two coffee breaks (am-pm)
One conference room and one dining room
Lunch
For a custom quote, contact us :
 +32 (0) 2 377 71 74 ou
 Contact form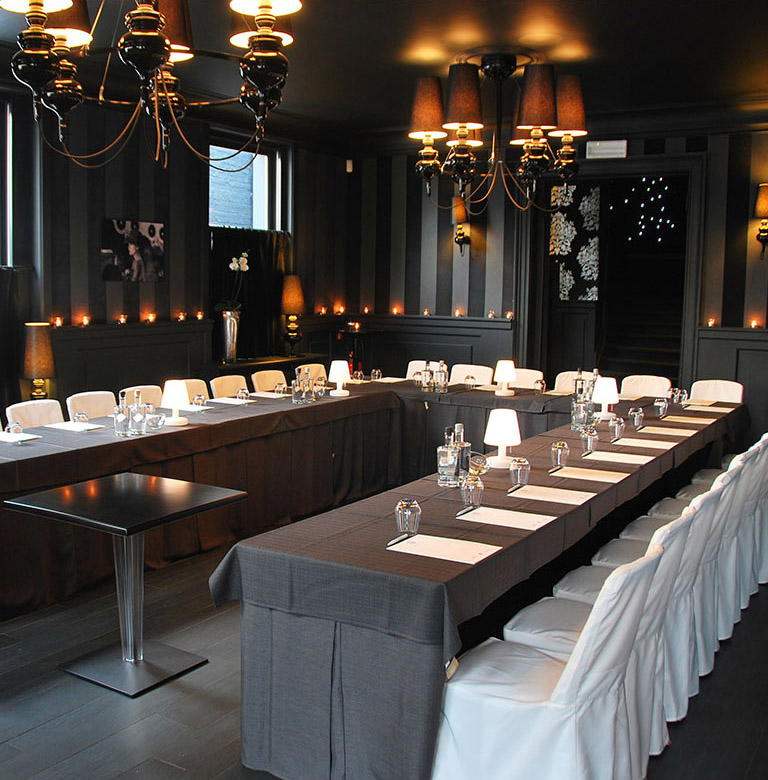 Plan & CapacityPlan & Capacity
| Nom | U | Carré | Ecole | Théâtre | Cabaret | Réception | Diner | Fête |
| --- | --- | --- | --- | --- | --- | --- | --- | --- |
| Welcome Area | 25 | 0 | 0 | 110 | 0 | 110 | 50 | 110 |
| Lounge Bar | 28 | 0 | 0 | 100 | 0 | 150 | 66 | 150 |
| Théâtre | 70 | 0 | 0 | 221 | 0 | 350 | 200 | 350 |
| Multimedia Hall | 0 | 0 | 0 | 0 | 0 | 70 | 0 | 70 |
| Terrace Garden | 0 | 0 | 0 | 200 | 0 | 200 | 120 | 220 |
OUR TEAM OF PROFESSIONALS WILL TAKE CARE OF YOU AND YOUR GUESTS, AND WILL STAY WITH YOU THROUGHOUT YOUR EVENT.
GALLERY PHOTOS